Tri-Edge™: Speed and Efficiency for Next-Gen Data Center and Wireless Technology
31 May 2022 / by Tim Vang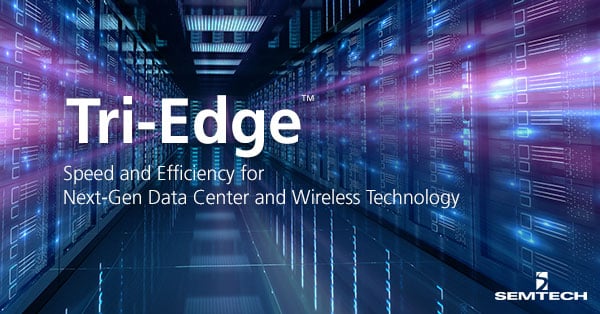 Optical solutions are essential to connect and power the digital era as signal integrity forms the backbone of every digital platform. Every time someone opens a webpage or uses a connected device, data moves from point A to B—often using optical fiber. With increasing industry and consumer demand for high-quality internet and fast upload and download speeds, fiber now makes up 32% of fixed-broadband subscriptions, up 20% in the last decade. The data center and enterprise networking companies powering data usage and cloud computing need high performance optical interconnect technology to minimize cost and power consumption without sacrificing efficiency and speed.
On the wireless side, experts predict the world will have over 4.39 billion 5G subscribers by 2027. As the industry rolls out 5G, and eventually 5.5G and 6G, more optical capacity will be needed for front, mid and back haul networks running over the same limited amount of available fiber. Rather than ripping up current infrastructure to add more fiber to meet this demand, vendors and providers are turning to higher speed, power-efficient and cost-effective optics that still meet latency and bandwidth demands with what's already underground.
What's New: Supporting Near-zero Latency and New Data Center Options
Semtech's newest Tri-Edge™ integrated circuits (ICs), the GN2555 and GN2556, enable next-generation data center long reach (LR) optical links. Additionally, the new Tri-Edge 50G PAM4 clock and data recovery (CDR) receiver, the GN2559S, offers low latency and reduced power for short reach (SR) and LR optical links. The integration of CDR and laser drivers delivers lower power consumption, reduced size and scalability to 800Gbps, the data equivalent of streaming more than 200,000 movies simultaneously. This allows companies developing hyperscale data center applications and enterprise network configurations to reduce power, latency and costs. It also helps meet the demands of high performance computing (HPC) and artificial intelligence (AI) applications, along with cloud-based data centers, with minimal changes to data center infrastructure.
To support the transition to 5G and 5.5G, Semtech introduced the industry's first front haul Tri-Edge wireless platform CDR ICs, the GN2255 and GN2256, which enable the required architectures long reach (LR) and wavelength division multiplexing (WDM) optical links. The Tri-Edge platform's near-zero latency variation coupled with low power consumption and low product cost allows wireless system vendors and carriers to upgrade their X-haul infrastructures rapidly. Upgrades today will prepare networks for 5.5G and 6G deployments that will allow improved consumer experiences with devices such as autonomous cars, virtual reality and digital healthcare.
Because of Semtech's deep understanding of customer needs and the future of optical technology in data center, wireless and PON markets, the company delivered dramatic growth in its Signal Integrity Products Group business—which grew 14% over the previous year and achieved record revenues in fiscal year 2022. Semtech also worked to minimize supply chain delays and meet industry demand by producing ICs out of several national and international foundries. This momentum propels the group into the remainder of fiscal year 2023, bringing with it new innovations for the data center, 5G wireless and PON ecosystems.
Looking Forward: Infrastructure to Handle Future Data Center Workloads
Semtech's Tri-Edge portfolio supports every level of the digital ecosystem—from optical module customers to providers and, eventually, the everyday digital consumer. Semtech is future-proofing the data center and wireless industries by integrating its award-winning technology with companies' current data center resources, positioning these customers to handle future workloads. By improving networks at the chip level, Semtech is creating a better consumer experience and supporting exciting connected applications and experiences.
Explore more about Semtech's Tri-Edge platform.
Semtech, the Semtech logo are registered trademarks or service marks, and Tri-Edge is a trademark or service mark, of Semtech Corporation or its affiliates.