Tri-Edge™ Technology: Q&A With Semtech
26 April 2022 / by EEWeb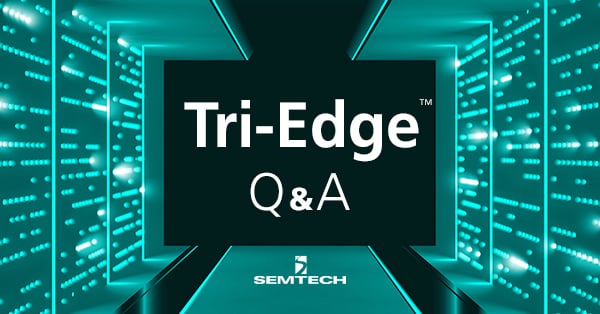 Brought on by the convergence of the Cloud and the Internet of Things, hyperscale data centers and wireless operators are pushing towards 200G and 400G. Key to this transition are optical modules, which is where Semtech's Tri-Edge™ technology plays a core role. With increasing bandwidth demands, optical modules must evolve alongside data center equipment to deliver greater density, lower power consumption, and lower latency. We spoke more about this with Timothy Vang, Vice President, Marketing and Applications at Semtech.
This Q&A was originally published on eeweb.com.
Q: Tell us a bit about your Tri-Edge technology.
Semtech's Tri-Edge PAM4 clock and data recovery (CDR) technology uses a high-performance analog approach to enable low-power optical communication links. The technology addresses the data center and high-performance computing (HPC) markets, as well as the 5G wireless front-haul, mid-haul, and backhaul markets.
Our Tri-Edge platform enables lower power, reduced latency and low cost for multi-mode fiber links up to 100-meters, and single-mode fiber links of up to 40km and is fully interoperable in data center and 5G applications.
Q: How does this technology support data center customers?
In the coming years, data center traffic is predicted to continue its immense growth. According to Cisco, global data center IP traffic will reach 20.6 Zettabytes by the end of 2021, up from 6.8 Zettabytes per year in 2016. To support the higher demand, data centers will require networking at higher speeds with higher capacity servers, switches, and interconnects using PAM4 signaling. This is where Tri-Edge comes in, enabling fully interoperable optical interconnects with low power, low cost, and low latency.
Semtech's Tri-Edge platform addresses 100, 200, 400, and future 800G applications for data centers. Tri-Edge short reach (SR) products are for multimode fiber links up to 100m, while the Tri-Edge long reach (LR) platform enables 200 and 400G SMF solutions up to 10km, enabling the product family to cover all the reach needs of intra-data center links.
Tri-Edge offers a more targeted approach to networking when compared to current DSP solutions, focusing on lower power and latency with the right level of performance with low-cost optics, providing value to both optical module and active optical cable applications.
Q: What are the biggest needs from data centers today?
Massive intra-data center traffic is multiplying the need for additional bandwidth and faster networking interconnection speeds. Driving the industry toward higher data rates is the increase in data processing inside the data center, which requires massive interconnections between servers through switches transmitting data across the network.
Most major data centers are in transition to 200 or 400G, but until recently, the only choice was DSP-based optical module solutions that consume high power, suffering from higher latency and costs. Semtech's Tri-Edge PAM4 CDR technology is the first low power solution available on the market for optical communication links within data centers. Tri-Edge is based on analog CDRs rather than DSPs and thus offers unmatched low latency and cost while being fully interoperable.
Q: What about the path to 5G? How will optical technology play a role here?
The rollout of 5G technology creates new opportunities across industries, but the current infrastructure cannot support all use cases. According to Ericsson's mobile traffic and data report, 5G subscriptions are forecasted to increase to 3.5B by 2026, up from 580M by 2021, while per-user traffic is expected to increase from 10GB/month to 35GB/month. This increased demand requires higher bandwidth transmission capacity for 5G front-haul deployments at extremely low latency, low power, and with high performance.
Semtech recently introduced the Tri-Edge wireless portfolio with the GN2255 and GN2256. These innovative integrated circuit (IC) solutions enable emerging 50Gbps PAM4 5G front-haul and mid-haul deployments up to 40km with single mode fiber. Based on the proven Tri-Edge CDR platform, qualified in data center applications, the new solution delivers the cost effectiveness, small footprint, low power, ultra-low latency, and performance demanded by 5G applications.
Q: What types of applications will this technology support?
Tri-Edge supports optical communication applications such as intra-data center communications, high performance computing, and wireless front-haul and mid-haul networks. In artificial intelligence (AI) and high-performance computing data centers, the low power and low latency of Tri-Edge enabled optical links provide key power savings and performance advantages for these densely interconnected networks. Power savings from Tri-Edge enable data centers to have additional power allocation for their servers, and Tri-Edge's low latency improves server efficiency and utilization by providing needed data with less delay. In wireless networks, Tri-Edge provides the ideal cost and power trade-off for front-haul and mid-haul links up to 10 km. Low latency is also a key requirement in wireless applications, and Tri-Edge's analog architecture meets these stringent requirements.
Learn more about the Tri-Edge platform on our website.
Semtech and the Semtech logo are registered trademarks or service marks, and Tri-Edge is a trademark or service mark, of Semtech Corporation or its affiliates.