5G and Data Centers: Signal Integrity Trends at ECOC
29 October 2018 / by Semtech Corporate Marketing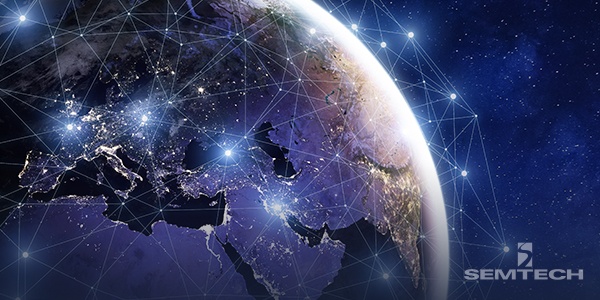 The 44th installment of the European Conference on Optical Communication (ECOC) Exhibition recently concluded in Rome, Italy. At the conference, Semtech featured several products for the critical hyper-scale data center and 5G wireless markets. The technologies demonstrated by Semtech from its diverse portfolio of Optical solutions include the ClearEdge® CDR platform for low-cost 25G SFP28 modules that will be an essential component of the 5G infrastructure build out. Additionally, Semtech demonstrated its new line of Tri-Edge CDRs and FiberEdge™ linear Physical Media Dependent (PMD) devices that will help drive current Cloud data center build outs.
Enabling 5G & Hyper-Scale Data Centers
China is poised to start the largest wireless infrastructure project in history with the build out of its 5G network. A key component of this effort are the 25G eCRPI front haul links that will be used to connect millions of remote radio heads (RRUs). The GN2146 ClearEdge CDR for eCPRI announced at ECOC 2018 is just one of the mission critical technologies that Semtech has developed to enable 5G. The bi-directional ClearEdge CDR, GN2146, includes an integrated EML/MZM driver and leverages Semtech's industry leading technology to enable <1.5W max power for SFP28 ER modules with differentiated features like Adaptive CTLE and integrated Bias-T network.
Hyper-scale data centers are at the beginning of a significant technology inflection point with the move from switches with NRZ-based IO to new devices with PAM4 IO. These new switches also double radix size from 6.4T to 12.8T with additional ports putting ever greater pressure on providers to manage power and cost per port.
The GN2558 and GN2559 Tri-Edge CDRs fulfill both of these requirements. The devices feature low power analog receivers that operate at a fraction of the power of traditional DSP-based solutions. Additionally, the devices include both PHY and PMD components thereby saving significant cost over individual components. The GN2559 integrates Semtech's quad Tri-Edge PAM4 CDRs with Semtech's market leading linear TIA technology while the GN2558 integrates a high performance linear driver with the quad PAM4 CDRs.
New Products from Semtech
During the conference, Semtech also announced initial production of two devices: its quad ClearEdge CDR with an integrated vertical-cavity surface-emitting laser (VCSEL) laser driver (GN2108S), and its quad ClearEdge CDR with an integrated TIA (GN2109S). The integrated circuits (ICs) offer a very small die size of 3.02 mm by 2.04 mm with 1.36W of combined typical power to enable <2W optical modules.
Semtech is one of the leading global IC suppliers with over a billion Optical ICs shipped worldwide.
Learn more about each of Semtech's Optical platforms below:
The ultra-low power, high-performing ClearEdge CDR is engineered for data centers and enterprise network infrastructures. Semtech's multi-lane signal conditioners are based on the reference-free ClearEdge platform and can be integrated with drivers and TIAs, therefore offering the lowest power, smallest footprint solutions for QSFP28, CFPx, XFP, retimed SFP+, and other 25G and 100G modules and AOCs.
Tri-Edge CDRs:
Semtech's newest product platform is based on Tri-Edge analog PAM4 CDRs. The Tri-Edge platform offers excellent PAM4 signal integrity performance with the ability to monolithically integrate linear driver and TIAs to provide 200G and 400G solutions with significantly lower power and cost than DSP-based solutions. Tri-Edge products deliver SR and LR solutions targeting the ever increasing bandwidth demands of hyper-scale datacenters and help solve their need for reduced power and cost.
Semtech's laser driver and transceiver IC platforms include superior laser drivers and receivers integrated for low cost, high performance optical communications systems for data centers, access and PON and wireless infrastructure. This platform utilizes both Silicon Germanium (SiGe) BiCMOS and pure CMOS designs based on performance and cost requirements. Semtech's laser driver and transceiver solutions range from 125 Mbps to 100 Gbps and beyond, and enable NRZ, Burst Mode and PAM4 signaling.
Elite receiver optical sub-assemblies (ROSAs) are engineered based on patented Semtech Rchip technology. The complete line of PIN and APD ROSA products spans 1310 nm to 1550 nm including limiting, linear and automatic gain control (AGC) functionality. Semtech PIN ROSAs operate at +3.3V±10% and from -40°C to 85°C, with highly accurate RSSI functionality and industry best dynamic range.
Semtech's extended selection of limiting post amplifiers is completely integrated with SiGe BiCMOS and pure CMOS. These limiting amplifiers are designed for fiber optic transceiver applications and fast Ethernet fiber optic applications.
Semtech offers a broad portfolio of fully integrated BiCMOS and pure CMOS TIAs providing wideband, low noise pre-amplification of a current signal from a PIN or APD photodetectors. Semtech's TIAs offer best-in-class performance in limiting, linear or automatic gain control versions for use in high-performance optical receivers operating from 155 Mbps to 100 Gbps.
Download the Optical Selector Guide to learn more about Semtech's innovative optical communication technologies.
Semtech, the Semtech logo, and ClearEdge are registered trademarks or service marks, and Tri-Edge and FiberEdge are trademarks or service marks, of Semtech Corporation or its affiliates.