Enhancing Alibaba Data Centers With Semtech's Tri-Edge™
01 December 2021 / by Tim Vang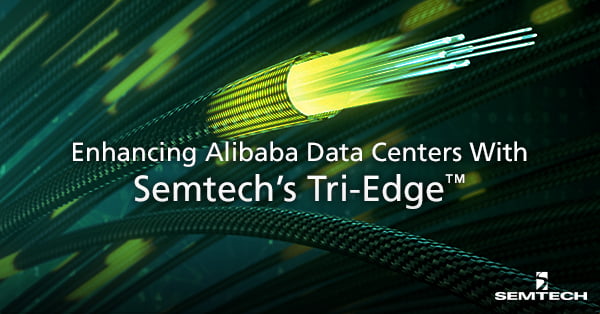 In the coming years, data center traffic will continue to see immense growth. Cloud services, Internet of Things (IoT) and ever-increasing broadband demand are driving a massive push by hyperscale data centers and wireless operators towards 200G and 400G. Optical modules, key building blocks for connecting data center equipment, must also evolve to meet these bandwidth demands with greater density, lower power consumption and lower latency.
To support demand, data centers will require networking at higher speeds with higher capacity servers, switches and interconnects that use PAM4 signaling. Semtech's Tri-Edge™ is a new approach to PAM4: Tri-Edge PAM4 clock and data recovery (CDR) technology was the first low power solution available on the market for optical communication links that addresses multiple markets, from data centers and high-performance computing (HPC), to 5G wireless fronthaul/backhaul, and links from 100m to 10km.
Alibaba Cloud: APAC's Cloud Services Leader
According to IDC, Alibaba Cloud was China's leading provider of public cloud services by revenue in 2019. Alibaba Group is the world's third leading and Asia Pacific's leading IaaS provider by revenue in 2020 in U.S. dollars, according to Gartner's April 2021 report. Alibaba Group's goal is to build the future infrastructure of commerce, making it easy to do business anywhere. Established in 2009, Alibaba Cloud is the digital technology and intelligence backbone of Alibaba Group, offering a complete suite of cloud services to customers worldwide, including elastic computing, database, storage, network virtualization services, large-scale computing, security, management and application services, big data analytics, a machine learning platform and IoT services.
Alibaba and Tri-Edge
To enhance its Cloud offerings, Alibaba has recently completed qualification of its 200G SR4 optical module with best in class power and latency performance based on Semtech Tri-Edge CDRs (GN2558 and GN2559) and has now begun deployments.
According to Dr. Chongjin Xie, senior director and chief communication scientist at Alibaba, "The 200G SR4 optical modules leveraging Semtech's Tri-Edge chipset fully met our exacting requirements for deployment in our data centers, including full interoperability with other optical modules and Alibaba's switch designs. Semtech's innovative Tri-Edge technology enables Alibaba to meet its cost, power and latency requirements for our next generation data centers."
The deployment of Semtech's Tri-Edge PAM4 CDRs in Alibaba's next generation PAM4 data center represents a milestone achievement for Semtech and further demonstrates that Semtech's Tri-Edge technology is a robust and proven solution for data center optical transceivers, enabling best in class power and latency performance. The Tri-Edge platform of analog PAM4 CDRs with fully integrated laser drivers and transimpedance amplifiers (TIAs) also lowers the cost of optical modules and AOCs. Semtech is at the initial stages of rolling out a complete Tri-Edge roadmap, which will include longer reach and higher bandwidth versions in the future.
The production released GN2558 and GN2559 is Semtech's Tri-Edge CDR chipset that enables next generation data center connectivity over multi-mode fiber, offering the lowest power, latency and cost. These Tri-Edge CDRs have garnered multiple design wins in data center, high-performance computing and enterprise applications.
Explore Tri-Edge products on our website.
Semtech, the Semtech logo and ClearEdge are registered trademarks or service marks, and Tri-Edge is a trademark or service mark, of Semtech Corporation or its affiliates.