Semtech and the Open Eye MSA Redefine Optical Networking Standards
06 November 2019 / by Julius Yam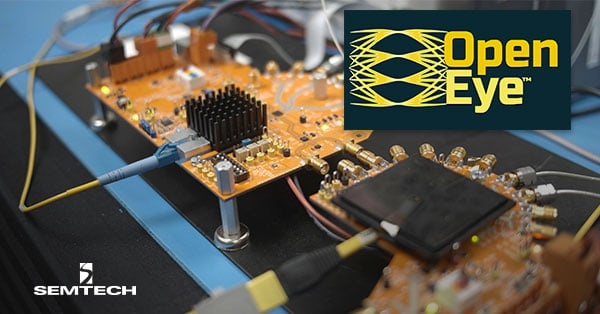 Semtech has recently returned from ECOC, one of the optical industry's most anticipated and widely attended events of the year. The event hosts more than 6,500 scientists, researchers and industry experts from the field of high performance optical communication. Semtech's booth was once again a hub for interested visitors eager to learn more about Semtech's leading optical platform, and discuss current trends.
Demonstrations in the Semtech booth provided the audience a firsthand look into our newest Tri-Edge analog CDR parts targeting both multimode and single mode 50G PAM4 optical applications. Demonstrations included a 100m VCSEL-based active optical cable (AOC) link and a 2km/10km single mode EML link, which offer performance meeting the requirements of the 200G-FR4 Open Eye MSA specification. Our FiberEdge™ products were on display, showing best in class performance for both 50G and 100G PAM4. Also shown in the booth were Semtech's ClearEdge® solutions targeting Fifth Generation (5G) wireless applications, including bi-directional CDRs with integrated EML and DML driver options suitable for links up to 10 km. Booth visitors experienced the advantages of Semtech's high performance analog solutions, with demonstrations illustrating potential power savings over comparable digital implementations with the benefits of simple link provisioning and bring-up.
The Open Eye MSA and the Importance of Interoperability
The highest costs in a data center buildout revolve around the inclusion of optics. The need to reduce cost and power in these modules is in great demand, especially as the industry looks to move from NRZ to PAM4 interconnects. As a result of these industry challenges, market acceptance of PAM4 optics has been delayed. Looking to minimize the need for signal processing in optical modules, significantly lower latency, power consumption, and cost, Semtech joined with MACOM and over 20 other companies to form the Open Eye MSA, a consortium devoted to the development of an industry-standard optical interconnect. Through the close collaboration of member companies, the Open Eye MSA aims to improve on IEEE standards and work to develop a strong set of interoperable low cost and low power products that promote the growth of PAM4. The ability to interoperate with both analog clock and data recovery (CDR), and DSP-based architectures is key to having a strong ecosystem that can support the needs of hyperscale data centers. Benefits stated on the Open Eye MSA website include:
Enabling low power SFF modules
Enabling a wider range of technology options including low cost, low power and low latency electronics
Offering low latency via utilization of retimers ideal for time sensitive applications
Offering compatibility with installed single mode and multimode fiber infrastructure
Supporting IEEE-compliant nx50G PAM4 electrical interface for compatibility with existing switches and routers
Reducing complexity and leverages reliable optical compliance testing using traditional eye diagrams in place of TDECQ
ECOC represented the perfect chance to debut this new MSA to the world, and spread the word of the consortium's plans for increased global cooperation and collaboration for the growth of better optical standards.
For more information on the Open Eye MSA, watch the new video below.
Trends and Conference Takeaways
Although this year's ECOC conference did address optical applications, which continue to rely upon sophisticated DSP approaches, such as those for long-haul and inter data center transport, there was significant discussion throughout the conference on improving performance and bandwidth of optical components. These improvements in the optics will leverage simpler analog types of transceivers and demonstrate a viable path forward for 100G Open Eye MSA specifications. We anticipate this exciting prospect will be tackled in the near future.
The rise of hyperscale data centers is playing a central role in forming today's network connectivity challenges. The move to the Cloud has had broad reaching affects as well. Semtech's leading optical networking product platforms provide high-performance signal integrity for optical module solutions used by leading companies in the data center, enterprise networking, wireless infrastructure, and passive optical network/Fiber to the X markets, to combat these challenges head-on. Learn more about our innovative suite of products on our website.
Semtech, the Semtech logo and ClearEdge are registered trademarks or service marks, and FiberEdge is a trademark, of Semtech Corporation or its affiliates.