Costco Addresses Water Waste with LoRa Technology
01 October 2018 / by Semtech Corporate Marketing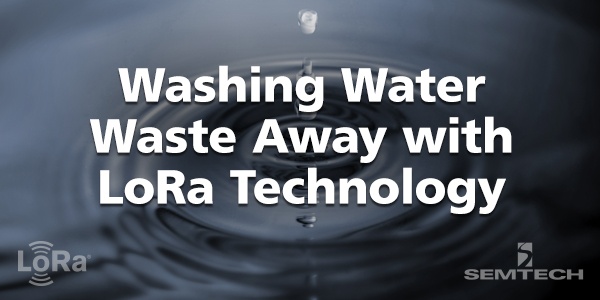 For businesses, water can often be one of the most expensive utilities. Additionally, it can be hard to keep track of just how much is being used in order to prepare for the costs. For big corporations, concerns are much larger than whether or not a sink has been left running. Supermarkets, for example use millions of gallons per year in refrigerated display cases, frozen food cases and storage freezers. If a leak occurs, or proper efforts are not taken to assure systems are running efficiently, water waste becomes a very serious and costly issue quickly.
Apana – On a Mission Against Water Waste

Apana is a market leading technology company, focusing on smart water utility systems. Based in Bellingham, Washington, Apana was started in 2012 and has grown through its collaborations with several prominent companies. As corporate water use and wastewater treatment specialists, Apana began helping its customers solve urgent compliance problems and now supports hundreds of businesses by helping to eliminate unnecessary water use and contamination.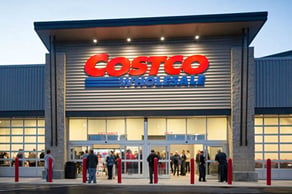 Customers have significantly reduced their water use drastically and savings far exceed the cost of keeping the waste in check. Costco Wholesale Corporation (Costco) introduced Apana's water management solutions in several of its warehouses and measured a 20% reduction in water waste and 22% decrease on its monthly water bill cost per building. Costco has since rolled out Apana solutions in 500 locations, including all North American warehouses.
A LoRa Technology Use Case
Challenge
Previously, there was no way to remotely monitor water usage before the bill came every month or two. As such, leaks or other waste events went largely unnoticed until they became big and expensive problems.
Solution
Success
The LoRa-based sensor solution is easy to install into existing infrastructure – plumbers can install during routine checkups. Sensors communicate up-to-the-minute water use data via the low power, wide area network (LPWAN). LoRa-enabled sensors are completely wireless and can operate on a single charge for up to 10 years at a time, reducing expensive maintenance costs.
Apana is on a mission to eliminate water waste from each and every building. Whether a smaller operation or a large, multinational corporation, Apana has a solution to meet the need. Apana's LoRa-enabled sensors deliver powerful analytics to reduce compliance risk and save money; these sensors measure water flow and pressure through piping networks in homes and buildings. With the capability to handle millions of unique messages per day, LoRa-based sensors continually scan and send real-time data to Apana's secure, Cloud-based analytics engine. Offering a compelling combination of long range and low power, Semtech's LoRa Technology solutions are easy to deploy with flexible network scalability, and a proven track record of success.
"Apana provides companies a cost effective and reliable solution for water management as well as the ability to save millions of dollars in overhead cost. As water becomes a scarce resource, cities and governments will begin implementing IoT solutions to create a smarter planet," said Alistair Fulton, Vice President of Product Management in Semtech's Wireless and Sensing Products Group. "Semtech's LoRa Technology, a proven and flexible IoT solution, drives low risk and fast-to-market IoT solutions enabling customers to drastically save as they grow their business."
LoRa Technology, Empowering the IoT
A Semtech innovation, LoRa Technology tracks crucial data and diagnostics across entire grids, fleets and networks, making complex analytics simple and affordable. Public and private networks using this technology can provide coverage that is greater in range compared to that of existing cellular networks. It is easy to plug into the existing infrastructure and offers a solution to serve battery-operated IoT applications. Semtech builds LoRa Technology into its chipsets. These chipsets are then built into the products offered by the vast network of IoT ecosystem partners and integrated into LPWANs from mobile network operators worldwide. It is now estimated that 40% of all LPWANs are predicted to run on LoRa Technology by 2019, and LoRa-enabled projects are present in more than 90 countries worldwide.
LoRa Technology is the de facto technology of choice for smart utility monitoring solutions, like water and gas. Global market research suggests that the smart water metering market will surpass $2B in the year 2020, and that approximately 50 million smart water meters will ship in 2023, a number that is four times the size of the current market*.
One key advantage of LoRa-based smart meters is their ability to fit directly into a larger network for compounded solutions. Water meter sensors using LoRa Technology could fit directly into the same LoRa-based network as gas, heat or fire detection sensors and connect via the same LoRa-equipped gateways. In terms of a building, or group of buildings on a city block, this has large implications for safety and efficiency. Property managers could remotely monitor their buildings, and third-party applications would automatically notify of complications as they arise in real time. This drastically reduces the need for maintenance check-ups, driving efficiency and cutting cost.
Download the complete use case for more details.
Learn more about Semtech's LoRa Technology.
*Data from Semtech internal.
Semtech, the Semtech logo, LoRa and LoRaWAN are registered trademarks or service marks of Semtech Corporation or its affiliates.