The LoRaWAN® World Expo: The Power of LoRaWAN
25 July 2022 / by Olivier Beaujard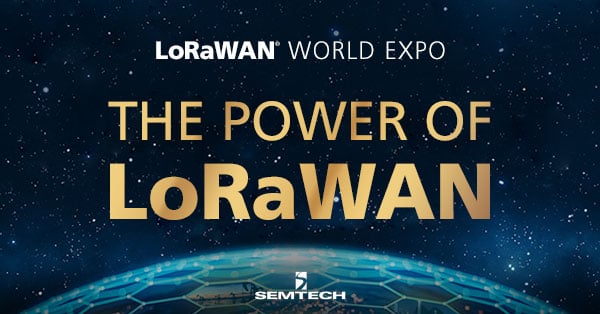 This year's LoRaWAN® World Expo, held in Paris in early July, featured a wealth of information exchanged by leading industry figures from around the world. The live event was a true success with more than 1,200 attendees from 68 countries – the largest LoRa Alliance® event ever held.
The event's theme, "Discover the Power of LoRaWAN," drew an impressive line-up of 129 speakers, including representatives from AWS, Microsoft, Eutelsat, EchoStar, MachineQ, a Comcast company, Cisco, Capgemini, Enedis, EU Commission, Helium (Nova Labs), Tata, and many others. The Exhibition area was the busiest section of the event with 75 exhibitors, numerous demos and a product wall featuring exciting new iterations of LoRaWAN technology.
Key event topics included sustainability, vertical markets, end users' viewpoints, and regulatory discussions. Satellite connectivity was a particularly hot topic during the event: many major satellite companies presented informative content. The expo was also attended by a variety of end-users for key applications ideal for LoRaWAN such as utilities, logistics, agriculture, facilities, retail, and health care, to name a few. Representatives from cities and municipalities as well as policymakers joined the conference to partake in learning and understanding how easy it is to deploy a LoRaWAN network and the value it brings to both communities and individual citizens.
A unique experience at the event, provided attendees an opportunity to see how LoRaWAN connectivity operates via an indoor, private network that facilitated live people trackers as well as delivering real-time event data for smart building monitoring, including air quality, indoor temperature and room occupancy. Analyst and media presence at the event was very strong and many briefings were held to discuss event themes and content.
Perspectives on the Many Applications of LoRaWAN
Speakers shared perspectives on Semtech's LoRa® technology and LoRaWAN as magnets for business, government, public service, utilities, and many others interested in the deployment of sensing technology and LoRaWAN connectivity. This ever-intensifying focus across commercial, private and public industry sectors is notable. According to VDC Research published in July 2021, worldwide low power wide area network (LPWAN) communication services revenue related to Internet of Things (IoT) is expected to reach $8.4 billion during 2025, with LoRaWAN technology accounting for 34% of the total.
Among the keynote in speakers was Semtech's Alistair Fulton, who presented a detailed, compelling keynote address discussing the critical, ever-expanding role that Semtech sees LoRaWAN playing in addressing the causes of global climate change. He emphasised that while the dual drives for efficiency and sustainability are noble, they are not sufficient. He cited examples of LoRaWAN solutions that are providing the monitoring and analytical capabilities necessary to enable governments and global initiatives to act on sustainability in the near term rather than delay action due to costs or technical inefficiencies.
Michael MacKenzie, general manager of AWS IoT Core, IoT Device Management and IoT Device Defender, discussed how IoT is the bridge that links the digital and physical worlds, opening major opportunities in digital transformation. With IoT, enterprises and cities are closing the loop from simply collecting information to acting on the data, helping them reduce inefficiencies, lower costs and open new revenue streams.
Semtech: A Proven Industry Leader
Semtech received extensive positive feedback from participants who were excited to meet in person once again and to learn more about the vibrant LoRaWAN ecosystem. Awards recognizing Semtech's notable industry contributions included:
The LoRa Alliance event series has seen many advances since its first iteration in 2015, and future events will continue to explore the potential of global sensing, monitoring and asset tracking to make our planet smarter while simultaneously ensuring sustainability and protecting the world's natural resources.
View the event's highlight video here.
Semtech, LoRa and the LoRa logo are registered trademarks or service marks of Semtech Corporation or its affiliates.