Semtech Expands LoRa Edge™ With Multi-Band LoRa® Support
13 April 2022 / by Sree Durbha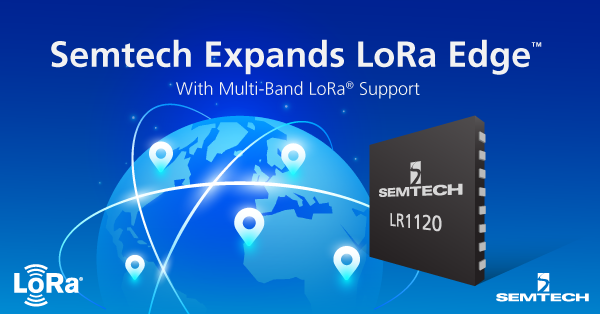 The increasing demand for intelligent, scalable and cost-effective global asset tracking solutions is a trend, which has been recently accelerated by the urgency to improve end-to-end supply chain performance, visibility and customer services.
Long range, low power and easy-to-deploy Internet of Things (IoT) geolocation solutions connected to the Cloud enable ultra-low power asset management platforms to automatically locate, track and monitor physical assets such as equipment, product, vehicles, and people. These solutions are essential to smoothing supply chain operations and provide smarter, more actionable asset tracking. However, massive adoption of tracking applications has been hindered by the challenges of providing reliable and affordable wireless connectivity across vast geographies such as across continents.
LoRa Edge™ Simplifies Global Coverage
The LoRa Edge LR1110 solution has been instrumental in advancing smarter and more efficient asset management by integrating GNSS and Wi-Fi scanners on chip, combined with a low power LoRa® transceiver and Semtech's LoRa Cloud™ geolocation solver and associated modem services. Several customers launched products and services based on this unique device-to-Cloud offering over the past year targeting applications as diverse as industrial asset tracking, cattle tracking, bike track and trace, and myriad other use cases.
Semtech's innovative LoRa Edge product line is now being expanded with a new chip, the LR1120, to offer multi-band LoRa connectivity options on a single device, including sub-GHz, satellite licensed S-Band and 2.4GHz. This solution will extend the simplicity and low-power advantages to more of the available wireless spectrum thus improving the worldwide availability and coverage for IoT deployments.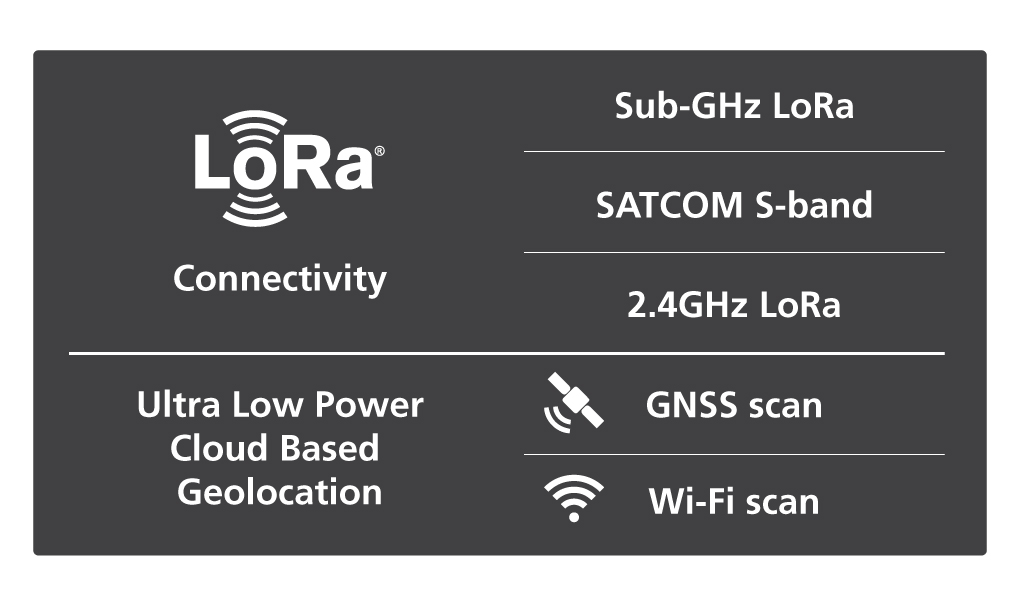 The LoRa Edge LR1120 inherits the strengths of the LoRa Edge LR1110 platform, with best-in-class LoRa RF performance as well as high-levels of integration of GNSS and Wi-Fi receivers geared specifically to deliver geolocation functionality, as well as the APIs powering its Cloud-based geolocation features from the LR1110. It maintains its ability to leverage LoRaWAN® networks in the various sub-GHz ISM bands within Europe, U.S. and the rest of the world.
With the introduction of this chip, LoRa Edge now supports a licensed band of spectrum (between 1.9 and 2.2 GHz) in the S-band for satellite communications called Mobile Satellite Services (MSS). This enables IoT deployments in hard to reach and remote areas such as oil fields in the desert or offshore rigs, where it would be impractical and prohibitively expensive to send personnel to collect sensor data.
Now, customers can build highly integrated and low power geolocation trackers capable of operating on both terrestrial and satellite LoRaWAN networks, unlocking use cases that require continuous tracking over thousands of miles, indoors and outdoors, in the middle of nowhere as well as in dense urban environments. This unlocks a huge number of opportunities across several industries including intercontinental supply chain management and logistics, asset tracking and both land based and transoceanic cargo transportation.
Customers are already rolling out networks to take advantage of this newfound capability for IoT end-nodes to connect. Recent collaboration announcements from Omnispace and Lacuna Space and a new pan-European IoT network platform from EchoStar Mobile are testaments to the growing interest in this technology.
Lastly, the ecosystem demand for a worldwide interoperable single frequency is finally getting addressed. For globe-trotting assets, such as goods shipped on cargo containers across the Pacific Ocean, tracking device application developers and end users can provide a long-range, low-power connectivity over the universal 2.4GHz band, the same frequency spectrum used by Wi-Fi and Bluetooth. System integrators and solution providers can leverage the connectivity capabilities of LoRa technology with an end-to-end network edge-to-Cloud solution that can easily transition from one sub-GHz geographical region, such as China to the West Coast of the United States.

To help ease the transition for customers, the LoRa Edge LR1120 comes pin-compatible with the LoRa Edge LR1110 and allows drop-in replacements. Since the two chips offer a similar power-profile, it is easy for manufacturers to upgrade their existing device design to take advantage of the new connectivity options by simply replacing the chip and updating firmware.
Ubiquitous Geolocation
Low power geolocation on terrestrial and satellite LoRaWAN networks and LoRa 2.4GHz connectivity enables new use cases. Removing the capital expenditure burden associated with deploying networks to achieve coverage over a large area will simplify and accelerate IoT solutions to market.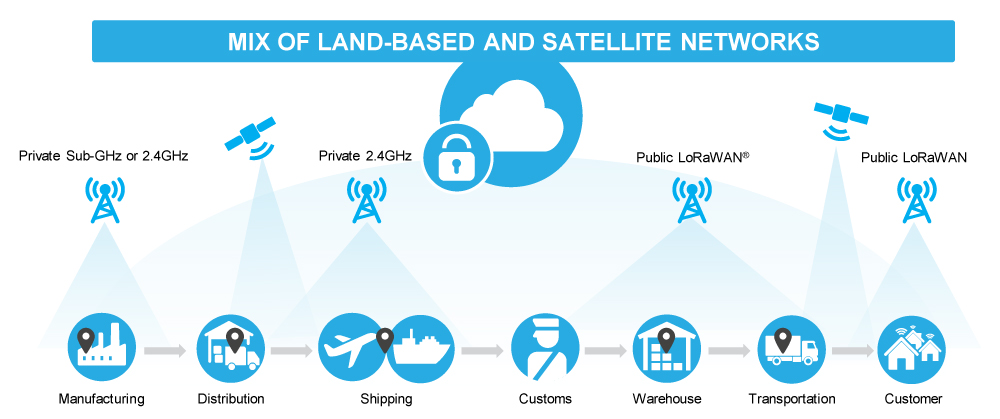 For instance, ubiquitous geolocation will transform asset tracking within intercontinental logistics. When looking at a typical journey of goods from factory through distribution, to the end customer, the combination of using LoRaWAN terrestrial sub-GHz network and seamlessly transitioning to a satellite network when terrestrial coverage is not available, then utilizing LoRa 2.4GHz as goods travel from one continent to another via airplane or maritime travel, is one example of simplified geolocation asset tracking during an entire chain of custody.
Satellite connections for IoT networks are well-suited to delivering service where terrestrial networks don't exist. For example, tracking devices on cargo containers being shipped across the Pacific Ocean, where there's no 5G network, the only way to keep an eye on a container being shipped from China to California is via satellite. Agricultural networks and networks monitoring environmental health also fall into this category.
Where terrestrial coverage exists, but has to cross multiple networks between the origin and destination, which most commonly happens with logistics like truck deliveries, it is advantageous to have a homogenous network that doesn't require paying for multiple carriers. A truck driver traveling between several European countries, for example, would typically need to pay for multiple carriers along the route to ensure continuous service.

Satellite connectivity is also extremely useful when monitoring assets in remote or dangerous environments such as a forest or mountainous regions. Remote and real-time monitoring use cases for satellite include agriculture, animal protection, utility infrastructures and mining, to name a few. Today, the LR1120 can provide satellite connectivity up to ten of thousands of kilometers away.
The LoRa Edge platform is a secure and ideal solution for simplifying and expanding the capabilities of asset tracking applications. The new LR1120 significantly increases the range and flexibility of geolocations solutions for indoor and outdoor tracking, while reducing the cost and complexity of monitoring IoT assets.
Learn more about LoRa Edge LR1120 on our website.
Semtech, the Semtech logo and LoRa are registered trademarks or service marks, and LoRa Edge and LoRa Cloud are trademarks or service marks, of Semtech Corporation or its affiliates.