Launching LoRa Cloud™ Locator Service to Evaluate Ultra-Low Power Asset Tracking With LoRa Edge™
21 June 2022 / by Karthik Ranjan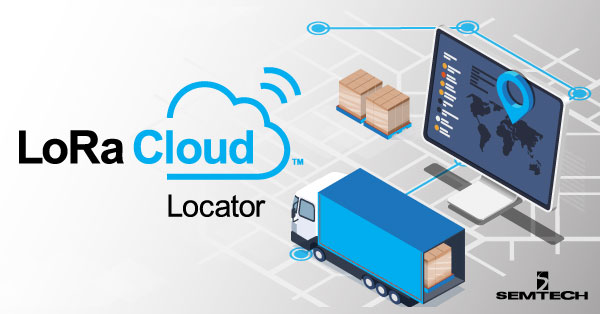 The Need for Continuous Asset Tracking
Of the many complexities along the global supply chain and daily logistics operations, asset tracking is arguably the most challenging. Disruptions and subsequent capital loss not only affect goods transported worldwide, but also containers and vehicles used for shipment. On a more local scale, retail stores and shop owners are challenged in keeping track of their assets and supply at all times throughout the day for reasons varying from theft prevention to inventory management.
Asset tracking is not exclusively utilized in the supply chain segment, though. As a matter of fact, it is one of the most common horizontal use cases across all industry verticals. Whether used in agriculture, facility management, healthcare or in the home, asset tracking is of unmistakable value in localizing assets anywhere and anytime.
All things considered, the need for accurate, cost-effective and long-lasting tracking solutions is strong.
Semtech Takes Asset Tracking to the Next Level
Historically, asset tracking solutions have used on-device GNSS hardware to calculate locations. Although these solutions can provide real-time outdoor location with very high precision accuracy, it comes at a cost. Connected devices using this approach are typically very power hungry, leading to short battery life and the corresponding increase in the total cost of the solution derived from the need to replace batteries or even devices on a more frequent basis. These solutions also lack the ability to provide location indoors.

Semtech's LoRa Edge™ platform significantly reduces power consumption by solving the location of the asset in a Cloud-based solver instead of on the device itself. Consequently, the device's battery life can reach up to 10 years or more. The LoRa Edge LR-series chips combine Wi-Fi and GNSS scanning to obtain the latitude and longitude of devices in any indoor or outdoor location. Combined with Semtech's LoRa® radio transmission to the Cloud, continuous coverage is obtained at nearly all times, regardless of where assets are located. To reduce time and friction for prospective customers looking to evaluate the accuracy and power consumption associated with the LoRa Edge chip-to-Cloud offering, Semtech has launched LoRa Cloud™ Locator.

LoRa Cloud Locator is a breakthrough SaaS chip-to-Cloud service that uses LoRa Edge devices together with Semtech's LoRa Cloud Modem & Geolocation services. The new service gives customers the opportunity to experience first-hand the power of devices with LoRa Edge and easily evaluate the accuracy and power consumption capabilities of the LoRa Edge platform, offering an ultra-low power and cost-effective solution for indoor/outdoor asset tracking use cases.
Using LoRa Cloud Locator Is Fast and Simple
Those interested in LoRa Cloud Locator can purchase a LoRa Edge-enabled tracker, create a LoRa Cloud Locator account and discover how LoRa Edge unlocks new use cases across the entire global supply chain. To access the service, customers can visit locator.loracloud.com, where they can browse a selection of compatible trackers by Semtech, Browan, Digital Matter, and Miromico. Orders run through CalChip Connect and Indesmatech, two leading LoRaWAN® hardware distributors based in North America and Europe, respectively.
After purchasing a tracker, customers can log in to the application and register their tracker. They will be given the choice of selecting their preferred network and can choose from the following providers, depending on local network coverage and individual deployment needs:
LoRa Cloud Locator also offers private network options for use cases where the customer is able to deploy and manage their own gateway, such as retail stores, golf courses and farms which are locations that may fall outside of the coverage area of public network operators. Setting up a private network can be done using gateways qualified for AWS IoT Core for LoRaWAN. After finishing the network and device configuration, customers can view their tracker's location on a map using a browser on either a desktop or mobile device in typically less than 15 minutes.

LoRa Cloud Locator supports both LoRa Edge-enabled trackers and the Browan Industrial Tracker with an on-device GNSS. This allows customers to effectively compare the battery life and indoor/outdoor benefits of both technologies and feel the direct positive impact LoRa Edge has on their asset tracing experience.

In addition to purchasing trackers and signing up for the service, on the LoRa Cloud Locator website customers can get inspired by several asset tracking use cases, learn more about how to get started with setting up either a private or public network and browse through frequently asked questions and a support forum for assistance.
Develop Your Own Asset Tracking Application
LoRa Cloud Locator is designed to work with devices using Semtech's LoRa Edge LR-series chips so customers can design their own hardware and/or Cloud application using LoRa Edge and LoRa Cloud. After completing their evaluation, customers have a few different options to reach an end-to-end solution based on LoRa Edge. One possibility is to purchase an asset tracking solution that is ready to install or hire a systems integrator to build a bespoke solution. For those who have the knowledge in-house, building a solution from scratch may be the way to go. Either way, Semtech offers customers the resources they need to get the job done. More on buying or building a solution for LoRa Cloud Geolocation integrations can be found on our LoRa Developer Portal.


Semtech, LoRa and the LoRa logo are registered trademarks or service marks, and LoRa Cloud and LoRa Edge are trademarks or service marks, of Semtech Corporation or its affiliates.